So I've got a new prototype now with  white maze bottom and black walls.  It comes out much better on the night vision goggles. Here was a quick test with a Sony Nightcam I had on me.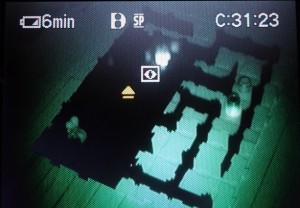 As you can see, it is very hard to see the maze walls when the maze floor was black. The monster was quite easily visible however.  The players were also easily visible on the white as much as the black.
Let's see how it looks like from the player's point of view when they find the monster!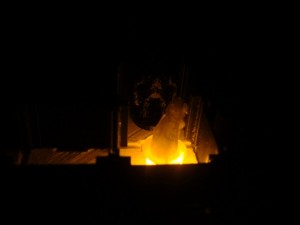 BOO!!!
Despite knowing where the monster was since I set it up, I still got a chill up my spine when I first saw the monster in the dark when the player turned the corner and it was quite exhilarating.
I think this is ready for a full size game to be tested. So here's the new second generation of the game.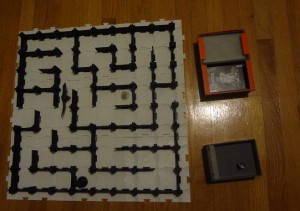 I've also create a card and dice holder. Both of them light up to reveal what the dice rolled and what the cards say. Next up, the first play test with friends!