We were at BGG Con, an annual board game convention held by the amazing team at boardgamegeek.com at the Hyatt Regency hotel at the DFW airport. It was an amazing experience as a first timer where within the hour of landing in Dallas, I was already playing games. They have a huge selection of games that any attendee can take out of the library.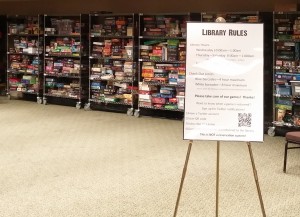 They also have lots of great talks held in conference spaces provided by the hotel. I got to meet Lou Zocchi who regaled us in all his experience as a game designer and seller. Mr. Zocchi had a great deal of experience and information about how to approach and talk with distributors and suppliers and what has and has not worked for him which is a great help to anyone looking to get started in game design and publishing.
The convention went very smoothly and had a great many resources to all attendees. I was even able to sign up for a private small room that was available for reservation to all attendees to host a private game session. I reserved the room to have a four hour session of played in the dark themed games. I was able to get The Depths of Durangrar demoed in the time. It was great to have a private room before the big demonstration Saturday for some practice and review.
The setup on Saturday started immediately with a hitch. The canopy tent I had brought extends up to 14 feet tall but the ceiling had a water pipe running across the booth I was presented at that hung at 12 feet. Working with the hotel facilities though, we were able to get the top of the ten to fit between the water pipes and they cleared the canopy as a non-fire hazard so thank you facilities at Hyatt Regency DFW for helping us early in the morning with that part of setup!
Next up, we found out we were missing our dice screen to use for illuminate what was rolled. However, an idea hit me as the previous day I had toured the convention and remember spying a booth selling dice towers and dice trays. Unfortunately I did not have enough cash on me to purchase a set however, Wyrmwood was extremely kind and decided to lend me two of their dice tower sets and tray for the duration of the convention. Their craftsmanship shows in their dice towers but their compassion is exemplary as well!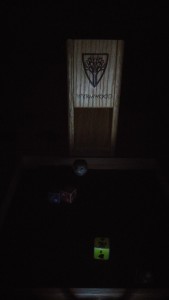 The rest of the day demoing ran very smoothly. Everyone who stopped by was very excited to see the game played in the dark. Despite some light leaking in, the darkness aspect exceeding many expectations. Some frequent dungeon crawler and RPG players immediately got ideas on integrating some of the components of The Depths of Durangrar with their own gameplay. This is one of the main reasons we love board games. Board games allow a great deal of freedom in incorporating house rules and designing new experiences to suit the players best. To be able to spark new ideas and excitement is a great joy.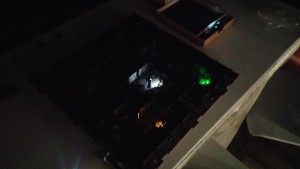 As we move forward, we are very excited to start polishing the game and trying out new materials to ensure we provide a very high quality game for many years of gameplay, either with our own rules or your own homebrew rules and games.
We'd also like to thank Team Geek for organizing and hosting this convention! Thank you for a fantastic experience! We highly recommend BGG con to board game players, designers and publishers alike!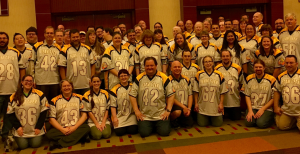 Photor credit to: Michelle Alden