From an earlier post, I was very excited to show how the shadows play in this game.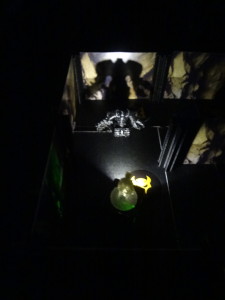 In this picture, we see the scout coming across the excavator. In the design of the lights for each of the explorers, the circuit board for the LED is located at the base of each character piece. This allows for the explorer piece to be balanced so they easily remain upright throughout game play. It also illuminates all the monsters such that they have the appearance of bearing down on the explorers. I'm also very happy with how it makes the shadows of the monsters much larger against the walls adding a great deal to the aesthetics of the game. In early experiments, the artists and I really wanted to bring this effect to all the monsters. We also wanted to give the explorers a more fluid stature.
And now I'd like to show you what the characters look like now.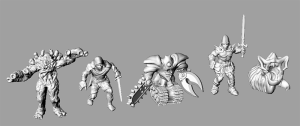 From left to right: (Fungii monster, Scout, Excavator Monster, Knight, Thresher Monster)